1. Christmas
We had our official Christmas with my family on Saturday. It was a crazy mess of wrapping paper. Noah got to hang out with his 1 year old cousin for the first time in months. They got along great in the beginning and then the shoving and "Mine!" thing started after a little while. You know…toddler stuff.
Here's a couple pictures from before we left for Christmas…before the sickness hit.
2. Sick Kids
My kids got a cold over our stay with my family. Nothing crazy bad, just a runny nose, sore throat and a cough. You can check out my post here on what we're doing to speed up their recovery.
On the bright side, Hailey's just about the happiest sick baby around.
3. I Need A Vacation
Am I the only one who feels like they need a vacation from their kids after sickness strikes? I've had whiny, clingy kids on me  for the past week and I just need to get away. For a couple hours. By myself. Or with just Hailey.
4. Staying Home
Because my kids are sick, I've been staying home. I really, really don't like it when people take their sick kids out and spread it around. So I'm doing what I wish other parents would do. But oh my gosh is it hard to be at home this long. We went to get a car was the other day, just to get out. I think we're all going stir crazy. Except Jordan…he gets to go to work.
5. Posts From Last Week
6. New Year's Eve
What a day. What a day… It was one of those days where I just needed a break. So I locked myself in the bathroom for the first time. It was only for 3 minutes and it was with Hailey. Noah cried on the outside of the door the whole time because I wouldn't let him nurse. The kid has decided that he doesn't want food or water right now. He just wants to nurse.
I should mention that he puked the night before…on my pillow at 3 in the morning. It's the first time I've had to deal with one of my kids puking. It wasn't as bad as I had thought it would be. Still gross though. I think it was a one time deal  because he hasn't puked again.
Cooking dinner involved crying babies left and right. And Jordan calling to tell me he was going to be super late.
I decided to brave the grocery store and buy ice cream after dinner. Even though it was the last thing our immune systems needed. I needed something, anything to make the day better. Did I mention that I need a vacation?
7. A Little Clearance Shopping
I went shopping with Hailey because I didn't want to go home after Mass yesterday. I found some super cute clothes and super clearance at Old Navy and Gymboree.
Speaking of Gymboree, have you seen their Eric Carle line? Totally bought these for Hailey, Very Hungry Caterpillar PJ's for $7, I think so.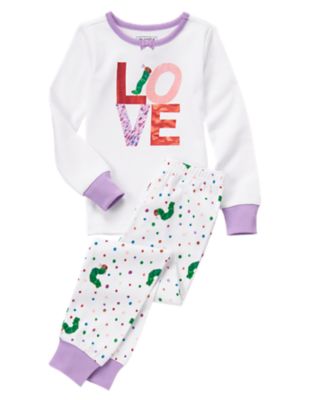 And I really wish the had this one in Noah's size. Because it's only $5.99 right now since they've got their 75% off sale going on.
Linking up with This Ain't the Lyceum for other 7QT's.
 *******
Disclosure:  Some of the links in this post are affiliate links where I will receive a small portion of the sale at no extra cost to you.  You can read my disclosure policy here.
Keep up to date on all the new content from Efficient Momma by following me on Facebook, Pinterest, Twitter, Bloglovin' or email (located on the right sidebar).